What People Are Saying About SnoreRx
Joseph

As of late I had been waking up my wife many times a night. Started looking for some solutions, and saw this one several times in my search, but seemed too good to be true. It is effective. When I remember to wear it, I don't snore, which leads to better sleep for both of us. Be sure you give this a try, and pay close attention to the moulding instructions. Mine did pretty well, but I imagine it could be slightly better. Also, your teeth will probably be sore for at least a week. (Might be a little sore every morning too, but it's not bad, and passes) give it the full week before giving up. If you've ever had braces or anything like that, you'll understand the feeling. It's worth working through. I have a crown on one of my upper front teeth. Seems fine for me, but didn't know you should check with your dentist first if you have one. Eventually got mine set to the 3mm setting, and it seems effective without causing undue pressure or discomfort.Sleeping with it is a little weird at first too, but once you learn to ignore it, you'll barely notice. Highly recommend. Will definitely replace when mine wears out.
Bruce S.

The product works well and the instructions to fit to my mouth were very easy. It did take a few days to get used to sleeping with this in my mouth, but once used to it, not a problem.
Tom

Absolutely brilliant!
Ommar Y.

Awesome appliance...would like to receive coupons for future purchases of cleaner and appliance replacement... Thank you guys so much
Elias

During a trip with friends, I felt embarrased because my snore did not let them sleep. I then did a lot of research and tried different things until I found this item. It change my life in a great way! I originally used the first version and it improve my overall health. I am currently using the Plus version and it makes it even easier getting used to it.
Roger H.

Very happy with the guard. I'm going to need another one to leave at the girlfriend's place loll
James

I had forgot what a good nights sleep was like until I started using SnoreRx. I am able to actually wake up in the morning without feeling exhausted. My wife also doesn't have to sleep with earplugs anymore. HIGHLY HIGHLY recommend!!
Tom M.

Worked great! My wife really enjoyed that I used it...until our dog got a hold of it. Now that it's gone, my wife is certain it's the only thing that has ever managed my snoring. We'll be ordering another.
Craig S.

Works as described, no more snoring. Takes a few days to get use to. I do have some soreness in my jaw, but getting used to that after a week or so of use. Very satisfied and my wife is back in bed with me again. Definitely works , just don't get frustrated, give it time for your mouth and jaw to get use to it.
Seth L.

Soreness improves with wear. Somewhat cumbersome to wear. It does minimize volume and amount of snoring. I am using it nightly.
Jeffery M.

This has help me sleep better no more snoring
Michael M.

Works great! Fits perfect! Very happy with this. Tried other brands and this is the best!
Mollie M.

Customer service was excellent in helping me return this, bc unfortunately it was no match for my teeth grinding. I would wake up every morning with it in two pieces somewhere in my bed.
Jon H.

The SnoreRX Plus is a great improvement over the original SnoreRX that I purchased years ago. The original SnoreRX was not comfortable to wear as compared to the Plus, which fits my mouth much more comfortably.
Stacy W.

It took some figuring out but I am SO HAPPY with this product! Thank you!
Matt G.

A little uncomfortable at first, but it has really, really dropped my Snore-Score! So nice to see and hear my snoring decrease so much.
Carl C.

Much better than zyppah
Michelle P.

My teeth and jaw began hurting, plus was getting a stiff neck after I tried using scorers. It did help my snoring
Jay J.

Works great
Renee L.

Helped immediately!
Ron E.

Very pleased with SnoreRx Plus. I've used it for 3.5 weeks and I have no complaints!
S. B.

Awesome device!
Logan

It didn't stop the snoring or reduce it and it was extremely uncomfortable
Tim

Significantly reduced my partner's snoring. Now just heavy breathing. Now I'm sleeping.
Stace P.

I spent years being embarrassed about my snoring. I didn't have high hopes of anything working when I found SnoreRx. Because it had a money back guarantee, I had nothing to lose. Boy was I impressed! My husband was so used to my snoring that he had to check me a few times to see if I was really sleeping as no noises were filling the room. Great product. I tell everyone I know about it!
Kris M.

Really helps with my Snoring.
Kayla K.

I can't keep it in my mouth. Therefore don't use it
Scott T.

Overall this has reduced my snoring and provided a me with a better overall feeling of rest in the morning. My partner has gotten better sleep as well, no more kicking me in the middle of the night. I bought the SnoreRX on the chance it could improve my snoring and I am happy it has worked. The plastic does wear down after many months of use and I will have to purchase another one soon. I might try to SnoreRX Plus and see if it is built sturdier for longer life. The one and only drawback to using the mouthpiece is your teeth can be a little sensitive to it. It takes a few days for a person to adjust to it and can take some getting use to. I give this 5 stars as it is fairly inexpensive and will improve sleep. If you find yourself snoring because your mouth falls open when you go into a deep sleep, then this is the product I would recommend.
Robin G.s

Works great, only reason we have it a 4 is because it's not very comfortable. But it works for snoring perfectly.
Mark S.

Does what is says stops snoring . Wasn't expecting to work but my wife told me it has helped me .
Stacia S.

Wonderful product! Stopped snoring using it the first day!
See More SnoreRx Reviews
Real results, from real customers.
Could SnoreRx change your life?
It changed theirs.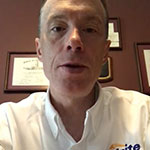 "Immediately saw results. My wife noticed it right away."
Watch Video Testimonial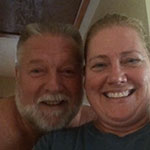 "He's sleeping at night and I'm sleeping at night. He is not snoring."
Watch Video Testimonial
---
Share Your Experience
Has SnoreRx made a difference in your life? We welcome your feedback! Submit a review to describe your experience.