What People Are Saying About SnoreRx
Submit a Review
Ryan

It works, but it comes with drawbacks. I use this in the original factory position and my wife says it is working. I find my jaw muscles feel a bit tight throughout the day and overall my mouth doesn't feel the same. My lips also can't close when I use it, so I tend to wake up with dry lips in the morning. I tried extending my jaw position out one notch and the jaw pain was much, much worse. I don't know how it's even possible people can go further out than the original position. It seems like it would definitely cause overbite issues with extended use. I still use it. I kind of have a love/hate relationship with it. I'm glad my snoring is better. I don't love the after effects it has on my mouth throughout the day. They're tolerable, but not great.
Anonymous

Been using for years and works great! I wake up much better rested and no snoring all night. Recommend fully
Anonymous

So far works great for both of us.
David

It Works!
Travis

I like the Plus model best but all of the SnoreRx products have worked very well for me.
Casey

This product WORKS! The setting process took a little bit of finagling and I had to return the first one because my bite impression was misaligned, but the company handled my return perfectly and sent a new one out to me in just a few days. I suffer from obstructive sleep apnea but with this device I can sleep all through the night and my partner tells me I don't snore at all anymore. It causes some minor jaw discomfort in the morning but my jaw and my bite go back to normal after about 15 minutes of stretching.
Edwin

I have been using SnoreRX for twelve years and I've found it to be extremely effective. Of course I have replaced them over time. I must say the SnoreRX not only keeps me from snoring but helps me get a good nights rest. My wife will tell me make sure you have your SnoreRX as we leave home on a trip I have several to avoid forgetting it when I travel. Just try it and you'll tell yourself I wish I'd found out about SnoreRX years ago. Advice keep it clean with water, toothbrush and mild soap (not toothpaste) and/or denture tablets for extra cleaning. Hope this helps you and enjoy a great nights rest.
Behrang

Did not work for me.
Gregory

Even with a CPAP, I still had an AHI of 10~15. After one month of using SnoreRX Plus, the AHI has dropped to less than 5.
John

Design was great in terms of user simplicity.
See More SnoreRx Reviews
Real results, from real customers.
Could SnoreRx change your life?
It changed theirs.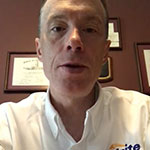 "Immediately saw results. My wife noticed it right away."
Watch Video Testimonial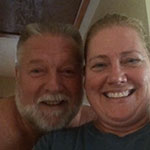 "He's sleeping at night and I'm sleeping at night. He is not snoring."
Watch Video Testimonial
---
Share Your Experience
Has SnoreRx made a difference in your life? We welcome your feedback! Submit a review to describe your experience.