What People Are Saying About SnoreRx
Matt W

Was skeptical but it actually works for me. Some adjustment to keeping your mouth entirely closed
JEFFREY ALLEN SRNCIK

keep up the good work. thank you ...
Mark Nadeau

My wife of 20 years thanks you
Shane Hurshman

Good product to solve your snoring
Mike C

Great product. My wife was very pleased as well as the other company in the house
Joe

After I started using this product, I found myself waking up and being more rested. My wife says I my snoring has stopped.
Timothy Winter

Thank you for bettering my sleep
Jeff

While we have found the SnoreRX has helped my snoring I find the device a bit painful to wear. My front teeth hurt quite a bit every morning and it takes a few hours for the pain to subside. I have adjusted the device to have the least amount of forward push.
J

Works better than any other mouth guard I've tried in the past. Highly recommend.
Patrick

Works great. After fitting multiple times, felt snug around my teeth. No more snoring!
Toby

Works well. Helped me with my snoring.
Jamie G.

The SnoreRx device definitely curbs my snoring. The excessive drooling and slight dry mouth due to not being able to close my mouth are minor annoyances if my partner is able to sleep because I'm not snoring anymore, and I think my quality of sleep was at least a little better as well. And the product clearly states there can be extra slobber associated with its use. However, I also grind my teeth (I already used a night guard for this issue) and this causes me to wake up with sore teeth when I use the SnoreRx. One particularly active night I woke up feeling like I had been kicked in the mouth - it was pretty bad, and I haven't used the SnoreRx since then (I want to talk to my dentist about this first). I would still be using it if it weren't for the grinding, it definitely worked for the snoring!!
Bradley Armstead

After 25 years of marriage, snoring. The First night, I stopped snoring. My wife thanks SnorerX very much. It 100% works!!
Snoreless

I purchased the device after participating in an abbreviated sleep analysis by my dentist who unofficially diagnosed me with medium level sleep apnea. I have known for a while that I snored but did not know the dangers of sleep apnea . For that I thank my dentist. His suggested fix was for me to buy a $3500 mouthpiece which would adjust my jaw and probably fix the sleep apnea and snoring.. Had he been somewhere in the reasonable ballpark ($1000-1500) I probably would have went with that device. But for 30+ times the cost of various over the counter options. I believed that I would not be being a good steward of my money without at least giving one a try. I also wanted to get a good baseline for my breathing irregularities at night and opted to go with an Oura ring which does a remarkably good job detecting breathing irregularities at night. (The dentist used a similar device to unofficially diagnose me. After wearing the ring for about 2 weeks (without a mouthpiece) to get a baseline for my breathing irregularities and verifying with my wife when I was snoring I then decided to try a device to see if it affected breathing irregularities. I picked the SnoreRX plus after reading up on it and other competitors. The custom hot water fit along with the adjustability were things that looked beneficial on the device. After the first night of wearing it my wife commented that she had a hard time sleeping because I was too quiet. After several weeks the clear pattern was if I wore the device my wife indicated that I did not snore and the Oura ring records much fewer and many times no breathing irregularities. I have been highly pleased with the device and would recommend giving it a try. I have been using an ultrasonic cleaner to clean the device each day. The device easily breaks down to 2-3 parts for cleaning. As far as getting used to device, I experienced a couple days of soreness and some minor teeth shifting but the benefits have far exceeded these minor side effects.
J Gaddie

Happy to have found this product. It worked for me!
Kingi

I used to snore most of the night keeping my wife awake. I tried SnoreRx and it stopped the snoring. It took a couple of days to get used to. SnoreRx Plus is more comfortable so I've bought a spare. Highly recommended.
Elizabeth Cook

It hurts, but it makes my partner stop complaining. Hopefully it's not injuring me.
636benjamin

The SnoreRX Plus works just as well as the several other cheaper options I have tried in the past. The quality and comfort are significantly higher. I have only tried the Plus version, but I think the only difference is it is hinged and can come apart. While that makes cleaning slightly easier, it is more of a nuisance than anything else. I would prefer and will reorder the regular SnoreRX next time.
Daniel

I like the product it works. The problem is the soft pieces for your teeth do not stay connected to the hard piece. Other than that great product Also I owned both the RXplus and RX. The RX is better for those that are missing back teeth. The RXplus has pieces the move and rub the gums. When adjusted
Tracy

I wasn't expecting this to work but it did! I use the app "Snore Lab" and it showed no snoring all night!
Jesse

Extremely uncomfortable and difficult to breathe properly.
PZ

The product was high quality. Functioned as designed. It didn't help me, but the refund process was easy and efficient.
Yon

I really want to like Snorer,
Steven Perriolat

My only negative item is they only last about 6 months, then you need to get a new one
Anna

I really wanted to love that product but I must have a smaller than average mouth and the product was too uncomfortable to wear. I could not close my mouth and it caused tooth sensitivity and dry mouth within an hour of wear. Would try again if they made a smaller size.
Dave

I had trouble getting a good fit. However, snorerx was great and accepted the return no questions asked. This would probably work for someone who doesn't have a too big or too small mouth.
JEFFREY ALLEN SRNCIK

AWESOME PORDUCT, I WILL BUY AGAIN AND AGAIN. IT SAVED MY LIFE! THANK YOU. JEFF S.
Mark Nadeau

My wife wakes up not wanting to throat punch me lol. It only took a couple of days to get used to it. Now I can't imagine sleeping with out it
Mary Wybenga

I used this for an overseas flight to Europe and back to the States. I wore a face mask over my mouth to catch the drool and I didn't snore. I would rather use my CPAP for everyday but will use this to travel on long flights.
Jeff

It Works!- takes a little getting used to, but way less cumbersome than the other general options in the marketplace.
Brad C

Bought SnoreRX when my current device molded by Dentist broke. Paid about half the cost and same results. No Snoring.
Doreen

I no longer hear complaints from my daughter about my snoring. I've tried so many different products it's great to finally find one that works.
Shelly

I found out I was having sleep apnea. I purchased this product. I didn't expect much but it has made all the difference in the world!! I rarely have any apnea now. I believe this is a life-changing product. I sleep better, wake up refreshed and I am so glad Ii tried it!!
Garrison

I am more than satisified! It took only a few days for me to become acclimated...something I was worried about, fearing I could not tolerate it. It is comfortable and I do not experience jaw pain. I've kept my device at 3mm as I found it did not stay in place overnight when I increased it. My snoring decreased by at least 80%. But the greatest benefit is that I wake up feeling rested. 100% recommend.
Justin Puente

I did a sleep study and it determined I did not have apnea but did have serious snoring. This device cured it instantly
Bill

Amazing product. I have tried everything to reduce my snoring, including surgery, and SnoreRx has eliminated 90% of my issues with very little discomfort. Just a few days to adjust to it but then no further problems at all.
Gearhead

Works as advertised. My snoring was bothering my partner. Since I started using the SnoreRx, I am now a silent when sleeping. It makes both of us happy!
Joe

I don't want to oversell it, but my purchase of the SnoreRx device has been nothing short of life changing. A few years ago I hurt my back at the gym and was unable to work out. Because of this, I gained quite a bit of weight. By the time I was ready to go back to the gym, the pandemic happened and I continued to gain weight sitting at home. As I went from overweight to obese, I began to snore. The snoring prevented me from getting "good sleep" and I spent all my time tired, angry, and hungry. A friend of mine recommended the Snore Rx Plus and claimed it stopped his snoring. I decided to try it. It was uncomfortable at first, but I suffered through because my girlfriend's feedback was that I wasn't struggling to breathe during the night. Suddenly, over the next few weeks, I found myself with more energy and less desire to gorge myself silly. I've been able to work out again and I've been watching my calories. In a few weeks I've lost over 12 pounds. That said, obviously this is not a weight loss device, but something meant to stop snoring. But there are proven effects of getting sleep, such as I have mentioned above (not being as hungry/cranky, etc.) I'm also a college student and I find myself much better able to focus and put in the long hours of study required.
James Maddalena

I tried other alternatives, some worked but lacked some of the advancements that SnoreRX Plus pad including better fit due to a firmer hardened fit, the ability to adjust and the ability to open and close to ensure the devise didn't slip out while sleeping. I also find that it's great for people that typically grind their teeth like me because it allows for side to side movement. Overall, the best Inhave tried yet.
Jennifer Larson

I love my SnoreRX Plus. I thought I would sort of freak out with this device in my mouth but honestly I hardly even notice it. What I have noticed is when I use my SnoreRX Plus and then the app, every time my snoring is cut back 100%. It's crazy. I wasn't super optimistic but decided to go around and get it. So so so so glad I did
J.A.M

I was a little skeptical at first because I had used something similar in the past, that didn't work. I was shocked the first night I wore this thing. I mean it went from 94% snoring to like no snoring at all. I been using it since April of 2023, it took about 3 to 5 days to get used to it. I wake up more rested, my breathing is much better. At first my mouth will get dry, and my teeth will be a little sore, but that's gone now. I Apply some Vaseline around my lips before going to bed, and that helps with the dryness. I monitor my snoring with SnoreLab super cool app. It is truly amazing to hear myself actually breathing 🥹 while I sleep, and not sounding like a chain saw 😅. Thank you so much for this product.
Brendon

I downloaded an app call SnoreLabs to see if I was really snoring as loud as my partner said and it showed that I was super loud. My first night rating the SnoreRX was insane because I hardly made a peep. It might be a bit awkward for people to get used to, but I was fine and love that I'm not waking up partner.
spicer

I have had multiple apnea mouth pieces that have been made just for me from my dentist and cost over $1000. Each one has broken and of course there is no warranty. When my last one broke I decided to try something new so I did some internet searching and found snorrx. It is easy to 'setup' and seems to work well. The only problem I have come across is that that the bottom piece comes unconnected at times. I have yet to contact the company to see if there is something that can be done. In the meantime, I will continue to use.
Rochelle

Absolutely worth the purchase! I tried breathe right strips, nose clips, propping my head up without success. Then I went to SnoreRx Plus and it was a game changer. I have used it for over one month and my fiancé says it was worth every penny for him to get a good nights sleep. I think the only adjustment for me was how it was working to adjust my jaw, so for the first few days my teeth felt tender. Although it lessened, it didn't completely subside for about 3 weeks. Regardless, it doesn't change that we think this product is amazing!
See More SnoreRx Reviews
Real results, from real customers.
Could SnoreRx change your life?
It changed theirs.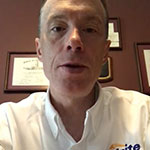 "Immediately saw results. My wife noticed it right away."
Watch Video Testimonial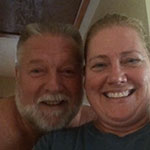 "He's sleeping at night and I'm sleeping at night. He is not snoring."
Watch Video Testimonial