What People Are Saying About SnoreRx
Joe B.

Works well, I made to get another soon
Caetano T.

My wife is finally sleeping the night away. I am very happy with snoreRx
EG

I bought the SnoreRx plus for my mother because we were planning a trip together and going to be sharing hotel rooms for over a week. I have tried sleeping in the same room with her in the past and found it impossible Even with earplugs due to her tremendously loud snoring. She had tried multiple devices over the years, including mouth guards, nostril inserts, chin straps, sprays, you name it. No other devices have worked. Before she tried the SnoreRx Plus she uploaded an app that would monitor her snoring. She was horrified to hear herself snoring loudly all night long. After trying the SnoreRx Plus, her snoring actually decreased a little bit right away, but she had trouble keeping it in place. Over the next few days she had better and better luck and the snoring was decreased more each day by volume and duration. By the end of the week, the snoring was barely detectable on the app, and she could keep the device in all night, comfortably. Two weeks later we were able to share a hotel room and we both slept very soundly! I'm very grateful for your product. Thank you!
Kevin S.

Once I got used to having the appliance in my mouth I slept fine. We really purchased the appliance so that my wife would be able to sleep better. I was snoring so loud it could be heard throughout our house. Not anymore, thanks to SnoreRx Plus.
Richard H.

The simplicity in this design really works. My wife now stays in the bedroom all night now.
Ron E.

Surprisingly great product. I would recommend to anyone with a snoring problem
Jacqueline F.

My snore score went from 60 to 10. That is pretty darn amazing.
Michael M.

Really enjoyed the product as I purchased the 2 pack of plus… however my dog ate the first mouthpiece after it fell out of my mouth during my sleep… and the 2nd one she ate a few days later as that one also fell out. Wish I could've enjoyed them longer as they did work for me
Greg

I've been using SnoreRx for 2 years. Please, Please make a XL version of the original so it doesn't fall out of my mouth occationally.
Caleb P.

This product has made my spouse so happy and allows us both to have a better night sleep.
Joel M.

Literally no snoring by day two of wearing the mouthpiece. No more morning headaches, no more waking up in the middle of the night. If you're on the fence, take it from a guy that researches online purchases for weeks before pulling the trigger. THIS THING WORKS. I don't even write reviews but this thing has changed my quality of life. Wife suggested it and she hit the nail on the head with this one.
Carl M.

This device works great and is easy to use. I wish I had one these 30 years ago
David Johnson

The SnoreRX is an excellent product. I have used a CPAP for nearly 20 years. After losing weight and the fact my machine was so old, I stopped using it. My snoring came back after a few months and I searched the web for a solution, besides a new sleep study and a new machine. The SnoreRX was the solution I was looking for.. After following the directions and setting the bite to fit, it was quite comfortable. It took a few night to get used to sleeping with it in, but now I don't even notice it. My snoring has completely gone away and I feel great when I wake up in the morning. I only had to set the adjustment to 1 in order for my snoring to go away. I highly recommend the SnoreRX if you are looking for a good way to correct your snoring. The price is very reasonable as well.
Vincent

Highly recommend. I've used other products and felt jaw pain or even biting my lip or cheek more often. With this, it fits better but most importantly stops my snoring.
Mark

Product does what it says. My wife agrees tells me my snoring is less noticeable
Oscar B.

Adjustability makes this a cut above the others. Trimming the overall volume of the appliance in the mouth would be a nice improvement.
Gerard P.

Works great and wife loves it!
Tina W.

Great it works!!!
Betty F.

These guys are THE BEST at customer service! I emailed them several times, and they answered immediately every time. Don't mess with some of those other companies that offer sleep devices. I recommend SnoreRx.
Susan S.

At first I did not like how big the SnoreRX Plus is in my mouth. I could not keep my lips closed around it, so my mouth dried out every time I used it. I used it every night for 2-3 weeks, and then totally skipped it one night, The next day, I was so sleepy! I think it must really help me breathe better at night so I can sleep much better. So, it's a keeper, and I will have to keep looking for a way to make my mouth stay closed. Glad I found SnoreRx Plus
Kent M.

For the most part it does keep me from snoring. I would say it works 80% of the time. It does take some time to get used to and is difficult to keep my mouth and lips closed when I am using it, that in turn makes my mouth and lips get dry during the night. I feel this is a good alternative to a cpap.
Alvin R.

The product doesn't hold my bottom jaw up as well as I would like.
Joseph

As of late I had been waking up my wife many times a night. Started looking for some solutions, and saw this one several times in my search, but seemed too good to be true. It is effective. When I remember to wear it, I don't snore, which leads to better sleep for both of us. Be sure you give this a try, and pay close attention to the moulding instructions. Mine did pretty well, but I imagine it could be slightly better. Also, your teeth will probably be sore for at least a week. (Might be a little sore every morning too, but it's not bad, and passes) give it the full week before giving up. If you've ever had braces or anything like that, you'll understand the feeling. It's worth working through. I have a crown on one of my upper front teeth. Seems fine for me, but didn't know you should check with your dentist first if you have one. Eventually got mine set to the 3mm setting, and it seems effective without causing undue pressure or discomfort.Sleeping with it is a little weird at first too, but once you learn to ignore it, you'll barely notice. Highly recommend. Will definitely replace when mine wears out.
Bruce S.

The product works well and the instructions to fit to my mouth were very easy. It did take a few days to get used to sleeping with this in my mouth, but once used to it, not a problem.
Tom

Absolutely brilliant!
Ommar Y.

Awesome appliance...would like to receive coupons for future purchases of cleaner and appliance replacement... Thank you guys so much
Elias

During a trip with friends, I felt embarrased because my snore did not let them sleep. I then did a lot of research and tried different things until I found this item. It change my life in a great way! I originally used the first version and it improve my overall health. I am currently using the Plus version and it makes it even easier getting used to it.
Roger H.

Very happy with the guard. I'm going to need another one to leave at the girlfriend's place loll
James

I had forgot what a good nights sleep was like until I started using SnoreRx. I am able to actually wake up in the morning without feeling exhausted. My wife also doesn't have to sleep with earplugs anymore. HIGHLY HIGHLY recommend!!
Tom M.

Worked great! My wife really enjoyed that I used it...until our dog got a hold of it. Now that it's gone, my wife is certain it's the only thing that has ever managed my snoring. We'll be ordering another.
Craig S.

Works as described, no more snoring. Takes a few days to get use to. I do have some soreness in my jaw, but getting used to that after a week or so of use. Very satisfied and my wife is back in bed with me again. Definitely works , just don't get frustrated, give it time for your mouth and jaw to get use to it.
See More SnoreRx Reviews
Real results, from real customers.
Could SnoreRx change your life?
It changed theirs.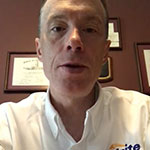 "Immediately saw results. My wife noticed it right away."
Watch Video Testimonial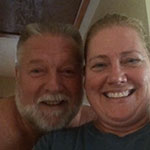 "He's sleeping at night and I'm sleeping at night. He is not snoring."
Watch Video Testimonial
---
Share Your Experience
Has SnoreRx made a difference in your life? We welcome your feedback! Submit a review to describe your experience.