What People Are Saying About SnoreRx
Justin

Sleeping better and snoring less, what more can you ask for!
Mike

I recommend snorex. It helps greatly reducing snoring
Patrick S.

This is the first anti-snoring device that's actually comfortable. It also helps reduce teeth grinding. I would probably wear it now if my wife weren't home. This is the fourth device I've tried and it's clearly the best.
Samantha M

This thing is a godsend! I have very mild sleep apnea and my snoring was getting ridiculous for my poor partner. Decided to give this a shot before trying to get a cpap since the wait was long and they are so expensive. Creating the mold was very easy. I will admit that I found it difficult to sleep with it in my mouth for the first week or so and would remove it during the night. Once I got used to it I noticed a general lowering of my snoring volume. I took the advice and slowly moved it forward over several weeks and have found the setting that stops my snoring completely! I definitely recommend this product and will continue using it in the future!
Heather

Easy to use and it worked for me! It does make my teeth a little sore in the morning on some days, but I anticipate that will get better as I use it more. Customer service was totally amazing and responsive to an issue that was in no way their fault (it was my fault!), and they still fixed the problem for me. Highly recommend!
JP

Back in bed with the wife!!!!!!
TommyV

great product, does exactly what it say it will do. Great customer service!
Deborah Gallagher

This is the third type of these devices I have tried and this one so far is the best.
Peter

Good product but is little uncomfortable and does slip putt once in awhile and then you snore alittle overall much better than snorning
Tom HOEFER

Excellent product. Much better than previous products I have tried.
Larrs

This product absolutely works! I have already recommended it to all my friends who snore!
TK

First oral device I have tried as CPAP doesn't work for me. It is easy to adjust and imprint to my teeth. It appears to help with my sleep after using it now for two months. Not every night is restful but better than it was. Trying to get used to the drool. Little soreness from time to time in my gums but not bad and getting better.
Morgan

I can't say that my snoring bothered me but my other half left the room almost every night until I got this She swears by it and says it works instantly. My only complaint is that it didn't last very long before falling apart But overall it's very worth it.
Patty

It actually does work but unfortunately I have a small mouth so it is very uncomfortable for me so I do not use it
christopher

This will be my third SnoreRx. I'm going back to the unhinged type. I think I like it better than the Plus model.
Kevin L.

I believe this does work. My wife can confirm that. It took over a week to get used to. One side of my jaw was pretty sore the first few times. I am disappointed that it may be wearing out at the 2 month mark. That may make it too pricey
SHARON

Wish there was a smaller size of the RX Plus version. I'd like the adjustment to be larger, but can't fit the appliance in my mouth at the larger end of the adjustment. Works will, but might work better for me if I could use the entire adjustment.
Ramon Hernandez

Wife loves it and me know..
Kevin

Totally amazed by this product. I had tried other devices with mediocre results. This actually works! I am finally getting restful sleep every night!
Kathy

The product does help with snoring. However, one of my bottom teeth is sore, and my mouth is very dry in the morning.
Connie S Jackson

It does work but makes my TMJ wose and my jaw painful. It's also really quite large.
V.loza

The SnoreRX is a good idea, but it did not work for me. The mouth guard was too bulky and did not allow me to close my mouth. Sleeping in my own drool with no way to make a seal and swallow was not good. The bottom tray did not form well to my teeth and after two tries to properly form it, it would still fall off my teeth and cause me to gag. I wanted it to work, but no luck.
Denise

I was having bad headaches from using the product stoped for 3 weeks , I have been using it for the last 4 days and it seems to be better .. my snoring stoped instantly when I use it
Maria

I am so grateful to find SnoreRX! I only have a mild case of sleep apnea and hated the CPAP machine! The SnoreRx stops the snoring and doubles as a mouth guard that I also desperately need! I can also pay for it with my HSA account without a prescription!
Alissa P

Definitely helps but wearing every night causes pressure at the back angle of my jaw. Appliance is too big at the angle.
Bri

Did the simple task of molding the item to my teeth with hot water. Left the adjustment setting to the way it came. Tried it out and it took a little getting used to but wife said absolutely peaceful no snoring at all. Next morning jaw was slightly sore but less than 5 minutes soreness gone. About 2 months have gone by and still at original settings soreness still the same and no snoring. I use it every night. If you can take a little soreness of the jaw bones in the morning for about 5 minutes this is better than putting an apparatus on your head. Highly recommended. Like they say "No pain No gain(snoring)
Lynn

First night my wife couldn't sleep for the silence. She actually felt to see if I was in the bed. Game changer! Plus I noticed I felt better rested. It's been a month or more and I wear it nightly still. It works for me.
Gigi0007

This was too big for me to wear
Dan Stoller

This has helped with me and my partner. I'm getting better/longer/deeper sleep and night and they have significantly fewer episodes where I am keeping them up or waking them up with snoring. Plus, it's safer easier to set up and use than any other such product I've tried and I've been through just about all of them.
Ann Huckfeldt

Great job on this product! Impressive
See More SnoreRx Reviews
Real results, from real customers.
Could SnoreRx change your life?
It changed theirs.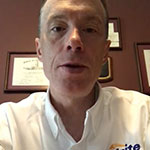 "Immediately saw results. My wife noticed it right away."
Watch Video Testimonial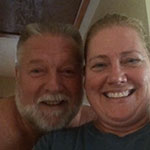 "He's sleeping at night and I'm sleeping at night. He is not snoring."
Watch Video Testimonial