What People Are Saying About SnoreRx
Fred Beato

Thanks for a great product more doctors and dentist should recommend your co.
Jim K

No comments as I just started using it.
Roy Waltze

It worked like a charm. I go camping each year and stay in a small trailer with my daughter and grandchildren and they have always complained that they couldn't sleep due to my snoring. But after using SnoreRx Plus - no compalnts!
John Bodeutsch

Like the product, affordable and good fit.
Problem solved

My 3rd snore guard from this company-wore the 1st one for 6 years until it wore out, my dog chewed the 2nd one up. This 3rd iteration is the best so far-the engineers at SnoreRx figured out how to make the mouthpiece fit better than ever-I used to wake up in the middle of the night with my mouth completely dried out and spit all over my pillow-no longer happens. This product allows for mouth movement in your sleep while still quelling snoring/apnea. It also comes apart for very easy cleaning. My only suggestion to the engineers is make the back hinges rounded instead of squared off-often, when putting the apparatus into my mouth, the hinges pinch the insides of my mouth. I just hold my nose and blow out the sides of my mouth to free them from being pinched, but I think rounding off the material would alleviate this one issue. Other than that-really great. My husband says no snoring from me, ever. And since medical tests are suggesting that apnea can lead to a greater risk of Alzheimers/dementia, this is a no-brainer for better sleep and better health. Customer for life!!!
David

This actually works, had to replace to of the snore rx Plus it would come apart in the middle of the night and I'd still snore. Got the reg snore rx and it works so much better. I do feel rested and my wife can actually get some sleep. My daughter sleeps upstairs and finally can't hear me from down stairs.
Tom

It is reasonably comfortable and does reduce my snoring
Mary

The SnoreRx device is very effective. I tried a custom-made device from my dentist but came back to SnoreRx. After a while the dentist's device became loose. The SnoreRx fits perfectly and thus is effective.
Dennis Day

Has definitely helps me sleep through the night to get a more restful sleep. Most importantly to me, has helped with my chronic headaches and sleep apnea
Chris

Has solved my snoring problem!!! Wife is happy. It does take a little getting used to and can cause some soreness at first but over all a great product.
Tim Greene

I'm just beginning to use the device
Jaime Viruett

Excellent product & good quality. It helped me to stop my snoring. I recommend it. Also, the Customer Service follow-up is very professional.
Mandeep kumar

It reduced my snoring during sleep as my roommate can sleep soundly now but i get teeth pain in the morning for few hours.
Patrick

This has helped me with my sleep apnea most nights. It usually keeps my jaw forward and airway open, allowing me to sleep pretty well. Other nights, I would guess the device slips out and I end up not sleeping well. Making sure you create a proper custom mold before first use is probably a factor. Overall the SnoreRx Plus is a really nice device that will help you sleep better.
Michael Corrow

Makes my jaw sore. Maybe better instructions on adjustments
Anne Snyder

Glad to find this solution. Thank you
William Freedman

Not a perfect solution, but far more convenient, comfortable and affordable than the CPAP the doctors were trying to sell me.
Bosco

This device definitely helps when I am able to keep my mouth closed, but does not seem to work when my mouth is open because the top piece comes off. I found it very easy to setup and make my custom impression. The instructions and videos were very helpful and the advancing adjustment is also easy to set. I would give it a 5 if I could manage to keep it attached to my jaw all night long.
Marty Funderburk

This is a good product for those not wanting to spend the exorbitant amount it would cost to have a custom mandibular advancement device made.
Cliff

Like many men that snore, I sleep fine, but my wife suffers . I purchased my first SnoreRx 6 months ago. It was an overnight sensation to my wife. She said that I did not snore once. So much so that she had to check to make certain that I was in the bed. I was quiet as church mouse. Its been that way every night for 6 months and she said its one of the best purchases I have every made for us. It took very little time to get use to the device. Yes, dry moth and very minor tooth discomfort (likely I unknowingly clinch my draw), but the discomfort is gone shortly after removal the device in the morning. Tons better than my buddies that wear a CPAP for snoring. Trust me, it is worth the money. I have one for at my home and one packed for travel.
Susan

I do not like the fact that my lips and mouth dry out
gohogger

easy to use and easy to custom fit
STEVE LANKFORD

The SnoreRx has worked from day one!!
Roger McDonald

I am interested in your business, you may contact us by email.
Paulette

ww wrwr wrwr 3tw3t tw3g
Mary

I've tried so many other products with only a little relief. This is the only thing that has stopped my snoring completely. I held off on buying it because of the price.. The only regret I have is not buying it sooner
Mike winningham

Does not work for me. It is too bulky and causes jaw pain and soreness.
Steve B

Snore Rx has been great. Completely stopped my snoring with the 1mm setting. It does make my jaw sore for a couple hours after I wake up, and I need to massage my jaw back into place for a few minutes to prevent developing an under bite. Only downside is the device only lasted around 3 months and then came apart. It would be nice if it lasted longer... Just placed my 2nd order.
Too big

Too big for my mouth, could not get it to work because of it being too large.
Julie Bonin

When I wake up in the morning it feels like my teeth are out of line and sometimes my jaw is sore. Is this normal?
See More SnoreRx Reviews
Real results, from real customers.
Could SnoreRx change your life?
It changed theirs.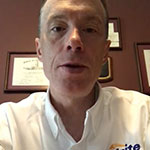 "Immediately saw results. My wife noticed it right away."
Watch Video Testimonial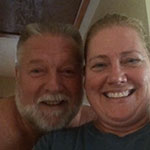 "He's sleeping at night and I'm sleeping at night. He is not snoring."
Watch Video Testimonial
---
Share Your Experience
Has SnoreRx made a difference in your life? We welcome your feedback! Submit a review to describe your experience.