What People Are Saying About SnoreRx
na

this has been a true game changer for my sleeping.
Great mouthpiece

Great product! Stops the snoring! I love it!
ALONZO LAMAS

Thank you, is good for me to stop snoring
Peter m

Works great. Will buy again. Use when I travel or when I'm over the cpap
Sam

They say it's not for apnea, but I tried it anyways and I've gone from apnea to no snore at all. I'd been relying on nose strips for years, only to some effect, and this just fixes it outright. I can even sleep on my back again 😴
William copley

Works great and adjustments are useful
AJ

Works sometimes but like 3 out of 10.adjusted to setting 4
Terry S.

I been reviewing all types of remedies on elimated snoring and did not want to nor did I feel like my problem needed a night time breathing machine. After looking at the various brands in the market place,...I felt like the concept mouth piece fit my situation the best. I'm so glad (LOL - so is my wife) that I purchased the SnoreRx Plus. It has elimated my snoring and I'm getting better sleep. Thanks!
Stacey

Love this product and my husband is defiantly much happier. Neither of us can believe that a simple product like this has made our bedroom so peaceful. My only issue is my teeth do hurt a bit when I first wake up but within an hour or two they feel fine. Small price to pay to have my husband happy and sleeping in the same bed as me once again.
Craigo

Great product, worth a try for sure
Kojo Arhin

Buying SnoreRx was one of the best investments I have made. Using the product saved my marriage.
Daniel

SnoreRx is great and greatly reduces snoring sounds during sleep it also helps to make you breathe through your nose instead of open mouth breathing
Stephen

The minor initial discomfort is worth now not being kicked out of bed. It's like a switch. With the SnoreRx Plus in place, there's not a sound.. Take it out and fall asleep and the music begins. Quiet amazing!
Blair Brown

2 nd one I've had , very good
TINA

THIS HAS HELPED RELIEVE MY SNORING COMPLETELY.
Jake

Purchased this in an effort to give my wife some relief from my terrible snoring. SnoreRx not only resolved that issue, but my sleep quality has improved significantly since I started using this mouthpiece. It took about a week for me to get used to it, but once I did, I didn't want to sleep without it. Setup and cleaning are both easy. Highly recommended for anyone who wants to reduce their snoring and get better sleep!
Sara

Please give more molding to keep lower jaw in. Lasts for a few hours, then 3am, easily slips out, otherwise a great product.
Alonzo Lamas

It helps me and my wife to sleep better
Chris Tessneer

Great! Stopped snoring instantly. My only regret is I wish the bottom jaw formed better. Once I save up I may buy another one to try to reform.
Troy

Stopped snoring but adjustment area does not hold well. After a month I now wake up with the two sides not matching. It takes about a month before my TMJ area did wake up so sore it was hard to eat breakfast. BUT it did stop my snoring.
Isaac

It hurts my teeth. And while the snorers plus does open up slightly with the hinge, it is not enough to actually do anything. I was incredibly disappointed with this device
JJay

The product so far works in reducing snoring. Once one get used to it, it does not bother your sleeping. I had a bit of difficulty when making the first impression as the inner guard dislodged thus not making a perfect impression. I had to do a second time. If you are making the first impression, make sure the the front and back plastic pieces are locked in place to make a good impression. Build quality...one rubber piece is coming off its plastic backing. I may have to either glue it back or buy another one. I have to check on warranty.
Bob Goodwin

Completed the survey as required today.
Tatijana

It's great! I can sleep with my husband in the same.room.again!
Sergio Sasso

Second night using it everything changed. Specially my wife's mood…
Will M.

I felt skeptical but I must say that my sleeping has improved a lot after getting this product. First, I must say that I have the advantage of having a wide jaw so I guess it made it easier since the device might be to big for some people. I live in a city with a very dry weather so the lack of humidity increased my snoring so I complemented this mouthpiece with a humidifier and I think it was the perfect match. I hope this is helpful.
Daniel

Unfortunately this product did not work for me because my mouth is just too small for the device but I gave you guys a high mark for the other reasons
Vincent Garcia

I like my snorerx but it didn't last me very long. That is the only complaint I have.
Brian Collins

Could not get top and bottom to form correctly at same time. 1st try, the top set perfectly and bottom did not; then when retrying to set mouthpiece, bottom formed fine and then top would not make a good connection so device was and has been of no use to me as you only really have 2 goes at setting it.
Christopher Lopez

Great, simple product that really helps with snoring. The 1st night of use my wife noticed significantly less snoring. It took me about 2-3 weeks for my jaw to become accustomed to using it through the night. A bit of discomfort the 1st weeks, but nothing unbearable. My only main drawback is the smell that develops overtime and the buccal residue that builds up between the lower piece and the plastic adjuster (and yes, I do brush my teeth before wearing it and clean the SnoreRx Plus each morning). Overall, a great product that really does help with snoring.
John Price

For me overall great device My wife thinks so too
Amy P.

I am currently pregnant and was snoring a lot as evidence by my sleep app and keeping my husband awake. Once I started using this appliance the snoring and wakefulness decreased significantly on the app. I have recommended it to a few friends already. My husband and I are both very pleased!
STEPHAN WHITE

Worked the first night and has every night since, I sleep better, my wife sleeps better, and have more energy during the day.
Steve

SnoreRX has been a solution for more snoring. I thought I might need a CPAP machine. But after doing a sleep study with my local hospital, I discovered that SnoreRX was all I really needed. This may not be true for everyone, but definitely worth a try.
Kristen Oldfield

Purchased for my husband and his snoring and it works really well!!! Thankful for a good nights sleep for us both! Would recommend to anyone snoring a lot at night and not sleeping well.
Jane

I like it very well. It has not stopped ALL snoring but has greatly improved it! My biggest problem was I had to redo the boil and bite to move the hinges forward. The hinges were rubbing sores at the back of my mouth! Once I did that, things are much better.
Greg

Works better than I expected. Wife is very happy that my snoring is gone. Much better than the CPAP!
ShadowSelf

I have tried 4-5 other products and so far, only SnoreRx Plus and the $5K device my dentist made for me have stopped me from snoring. SnoreRx has more give and is less painful to wear than my dental appliance, which also got out of alignment with my teeth over time. When that happens with SnoreRx, I'll just buy a new one. The only thing my wife has noticed is that it doesn't work well on the nights that I need to sleep mostly sitting up & I really can't blame the product for that. But otherwise this has been great. My wife no longer needs to constantly sleep in the spare bedroom. You need to sell these in Amazon, I would have found it sooner.
Barbara

I was able to get used to the fit right away. My husband says I still snore when I am sleeping on my back but not on my side. I wish I bought two instead of one because these are only supposed to last 6-12 months. A little bit pricey to replace that often. Overall… thank goodness for this product.
RD

I've suffered from moderate sleep apnea for years. I can't stand sleeping with an CPAP machine, and I'm not able to get my insurance to cover a dentist-made mouth guard for my sleep apnea. They are very expensive. I'm happy I found this alternative. This SnoreRx piece is very good quality and definitely helps reduce my sleep apnea and reduce my snoring which my partner greatly appreciates. I love that it is adjustable. I will definitely be buying again.
Alyssa

I was skeptical of the snorerx product because it seemed too easy of a fix, but not only has my snoring gone down significantly (tracking with SnoreLab, and testimonial from my boyfriend who works nights and has to listen to me snore), I've been sleeping deeper and more soundly every night. Boyfriend is happy that he doesn't hear a freight train passing through the house, rattling the windows at night. I'm happy I'm not embarrassing myself anymore. One minor issue that I had was how my teeth/jaw felt just slightly misaligned after removing the device in the morning. I felt like I had to massage my jaw back into place. But I think that is due to just having a stiff jaw from biting down all night and the issue resolved itself after a few weeks, I'm assuming I just got used to it, or my jaw loosened up over time. Otherwise, I'm a happy camper. Less snoring, sound sleep, happy me, happy boyfriend.
Kevin T. Kappen

I think it is a good product and WAY cheaper than a custom mouthpiece from my dentist. I recommended it to my sister.
Eric

My wife can finally get some sleep!
Needed sleep

I've always snored somewhat, but as I've gotten older it's gotten worse. I can't breathe out of my nose 90% of the time (yay allergies), so I usually breathe through my mouth while sleeping. This device is amazing! I'm sleeping all the way through the night again just like I did in high school. It does take some getting used to. I used it for two weeks before I was fully convinced, but my sleep improved on night one. If you live in a drier environment, be sure to put chapstick on at night or your lips might chap and bleed since you won't be able to lick them with the device in. Tl;dr 10/10
Deborah

I am an active healthy senior-my husband has complained about my snoring for about two years (especially bad after wine). I was getting increasingly self conscious. My friends husband recommended Snore Rx. On the very first night of use it worked. Like a miracle. And it was comfortable-required no adjustment. I'm grateful and glad i no longer need a sleep apnea assessment.
Anthony

This product has been extremely helpful for my partner to get more sleep, it's been an adjustment for myself but I feel over time that's something my body will get used to. I find some mornings my jaw is a bit sore or that I wake up in the middle of the night with slight discomfort from my teeth biting down but again I feel I just need to get my unconscious more accustomed to it. All in all I would truly recommend this product to anyone suffering from snoring or has a partner that's sensitive to it. From her point of view she sleeps much, much better now when I wear it and told me even when I do still make sounds when I breathe at night it's significantly quieter and hardly noticeable.
See More SnoreRx Reviews
Real results, from real customers.
Could SnoreRx change your life?
It changed theirs.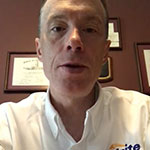 "Immediately saw results. My wife noticed it right away."
Watch Video Testimonial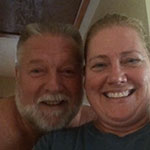 "He's sleeping at night and I'm sleeping at night. He is not snoring."
Watch Video Testimonial