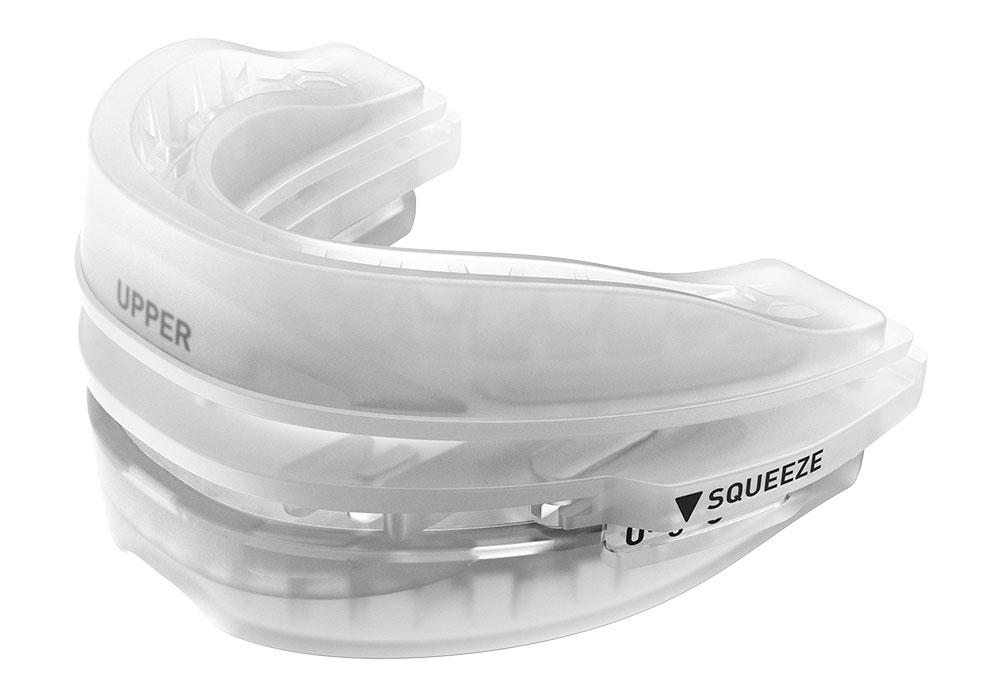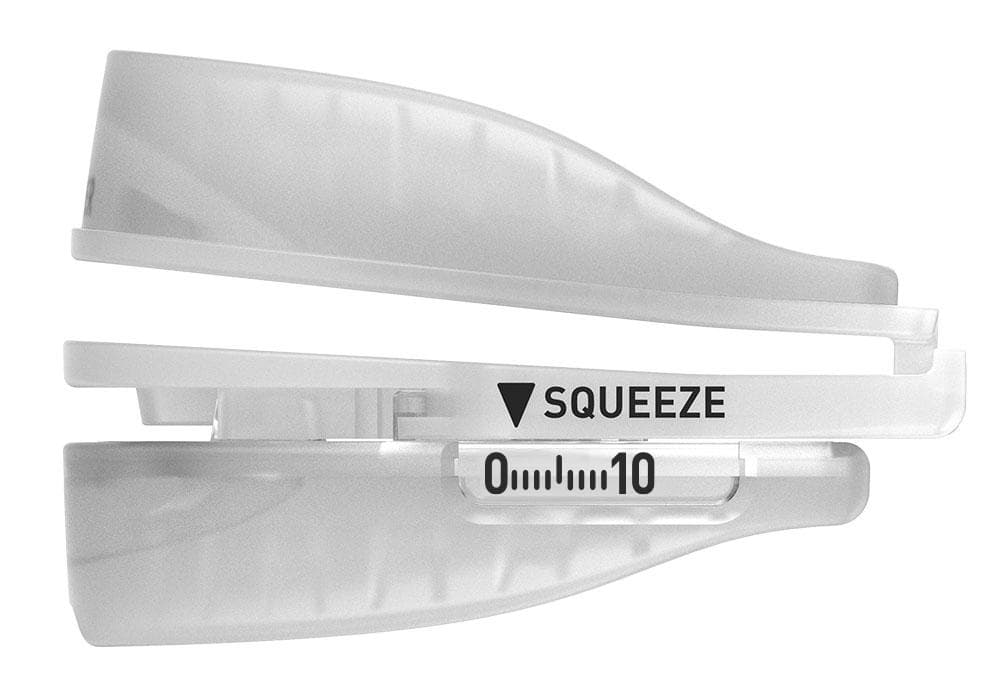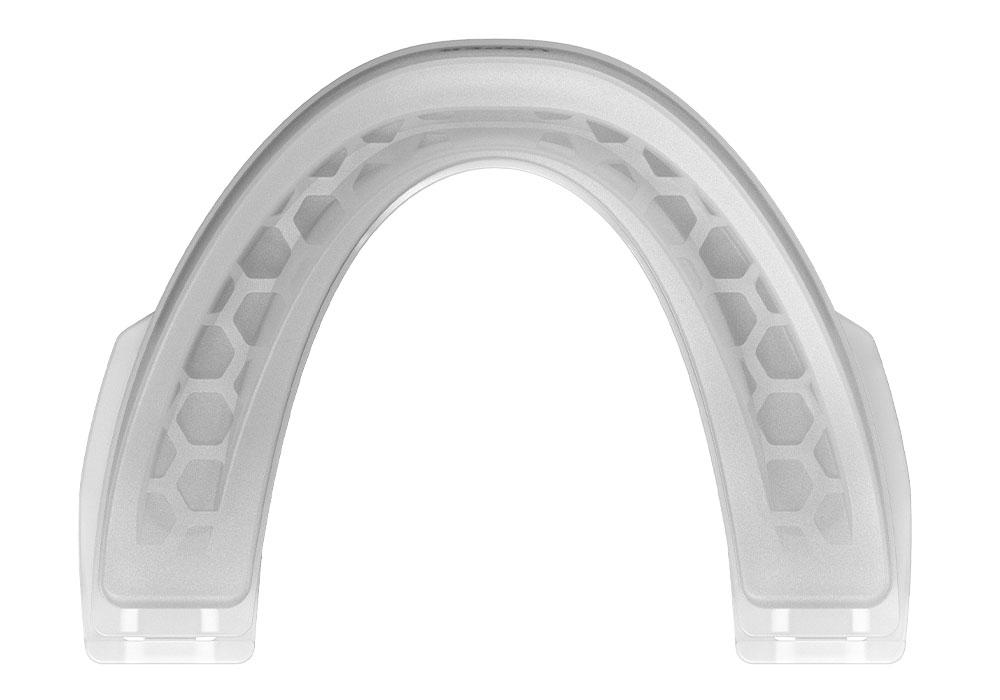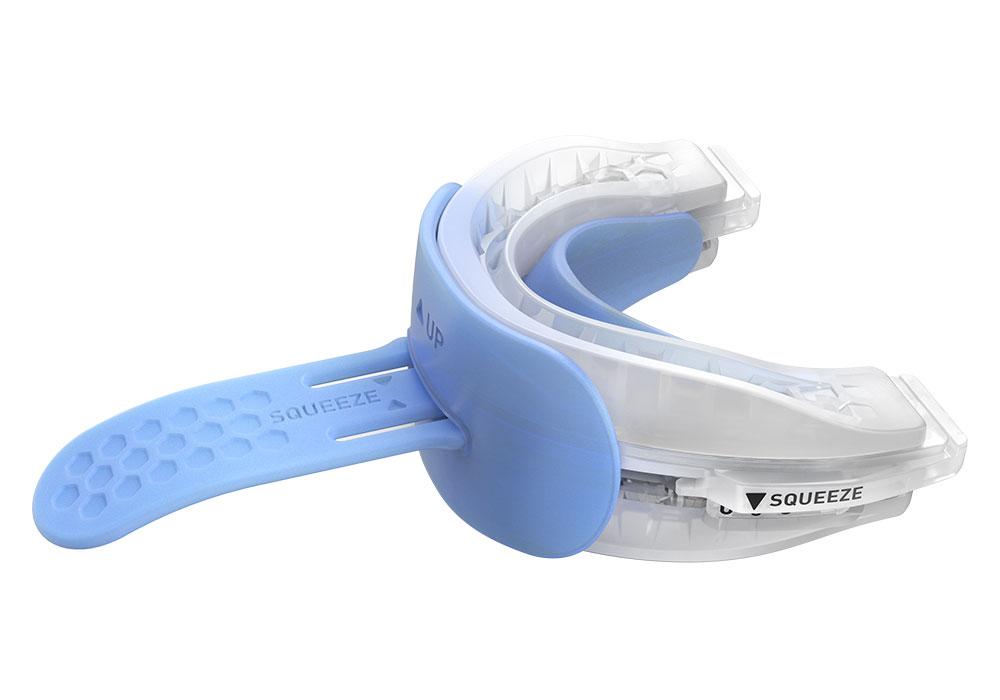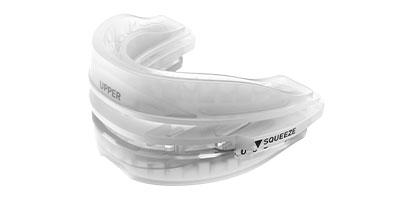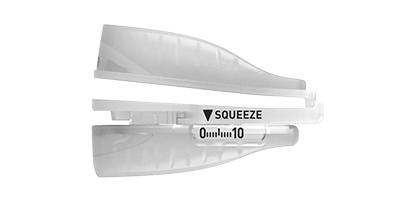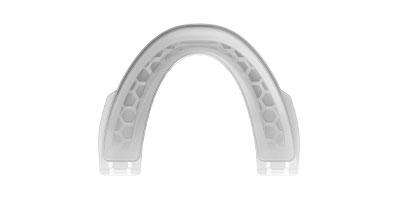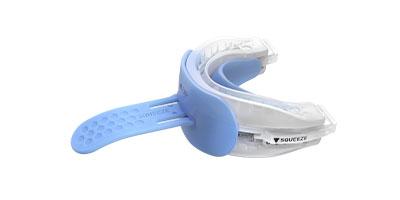 SnoreRx Anti Snoring Mouthpiece
An adjustable anti-snoring device with a customized fit, SnoreRx Plus props your jaw forward to open your airway and prevent snoring while allowing for vertical jaw movement. Fitting handle included.
30 Night moneyback guarantee
Dental Lab Quality Design
Made in USA
In stock, ships same day M-F
The Superior Solution to Snoring
SnoreRx
Adjustable
Vertical Movement
Custom Impression
No Tools
Thermal Matrix
Voted Best Anti-Snoring Mouthguard.
Choose your snoring solution.
Two products. Two prices. One trusted SnoreRx name.
View Product Details →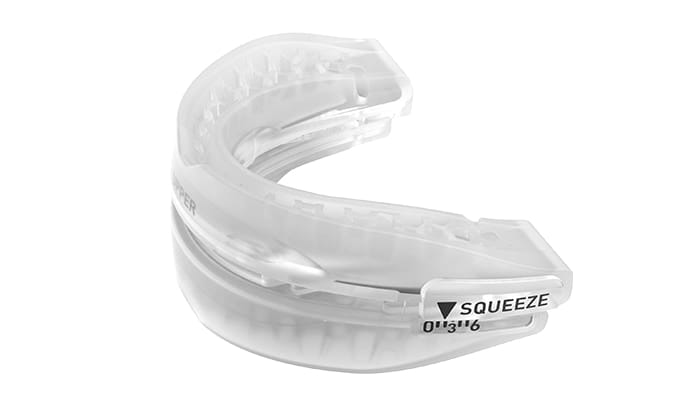 SnoreRx
Custom Fit

Create an impression of your teeth using the "boil-and-bite" technique for a comfortable fit.

Thermal Matrix Design

The material retains your unique impression for optimal fit, retention, and support.

Adjustable by 1mm Increments

Control the position of your device to find the setting that works for you.
$59.99 Get SnoreRx →
View Product Details →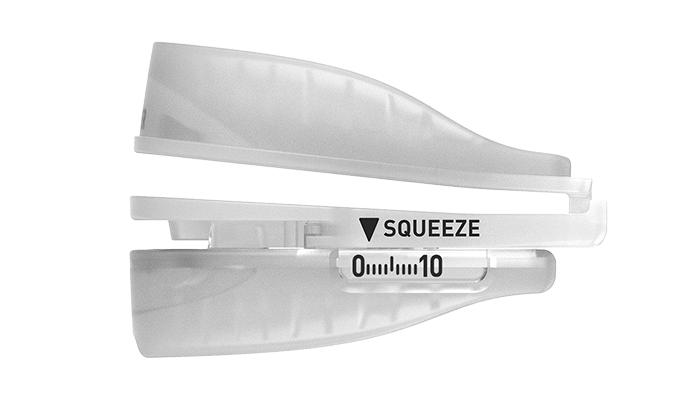 SnoreRx Plus
Most Popular
Custom Fit

Create an impression of your teeth using the "boil-and-bite" technique for a comfortable fit.

Thermal Matrix Design

The material retains your unique impression for optimal fit, retention, and support.

Adjustable by 1mm Increments

Control the position of your device to find the setting that works for you.

Vertical Movement

Allows your jaw to move freely up and down.
$99.99 Get SnoreRx Plus →
Thermal Matrix Design
SnoreRx design features a thermal matrix material that enables each user to personalize their device with a custom impression. The custom impression process is a simple step by step process that can be done in the comfort of your home.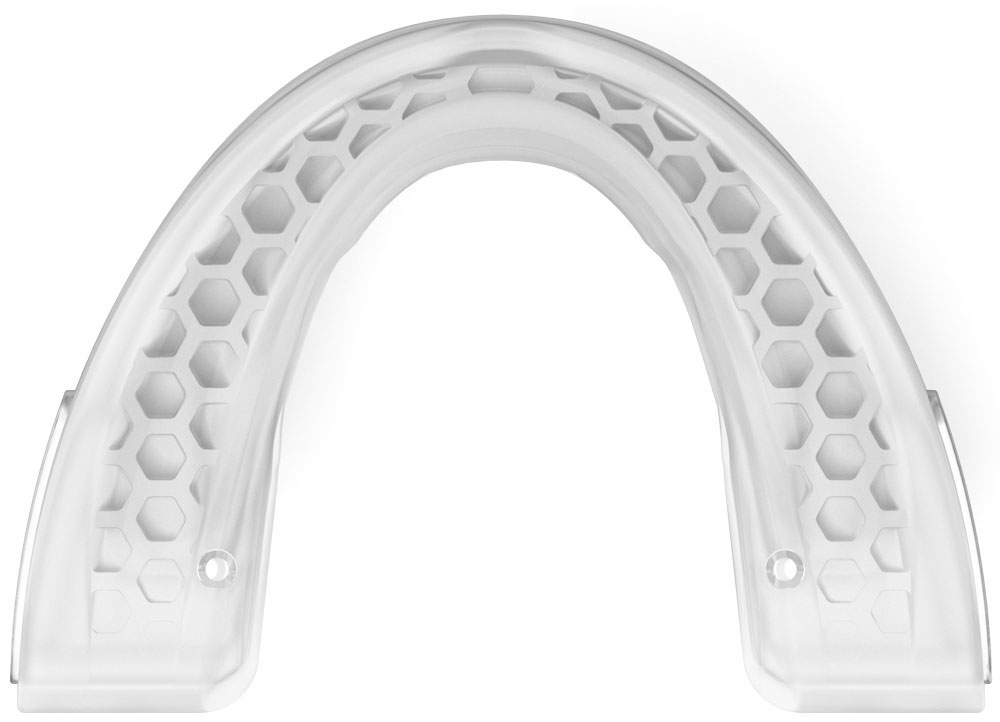 Personalized to Your Bite.
SnoreRx uses the 'boil and bite' process to create a custom impression of the teeth.
Step 1
Boil Cup of Water
Bring a cup of water to a full boil using a microwave.
Step 2
Place in a Cup of Water
Place SnoreRx into the cup of hot water for 60 seconds.
Step 3
Set Custom Impression
Bite down firmly into SnoreRx to create your impression.
Product Details
Specifications
Materials
BPA and Latex Free
Certifications
SnoreRx is FDA cleared over-the-counter (OTC) for the reduction of snoring.
Basic Care
Store in a cool, dry place when not in use. Spot clean regularly with toothbrush and toothpaste. An ultrasonic cleaner is recommended.
94%
Satisfied Customers
Over 90% of users have reported positive results when using SnoreRx to help them get a better night's rest.
A Comparison of Anti-Snoring Aids.
Medical professionals recommend oral appliances be designed with a custom impression to prevent tooth movement. Three core features to look for when purchasing an anti-snore device: custom impression, compliance with medical standards, and adjustability.
SnoreRx
Adjustable in 1mm increments Control the fit of your device with precision.
Adjustment setting can be reset Change the position of your device anytime, no tools needed.
Thermal Matrix Design Slim, lightweight material stays put and feels comfortable.
Built-in Calibrator Clearly see your current setting.
Prevents constant pressure Avoid jaw pain and tendonitis.
Exceeds medical standards Professional dental lab quality with advanced safety features.
Frequently Asked Questions
Is SnoreRx comfortable to wear?
SnoreRx is designed to be as comfortable as possible through its innovative design:
Thermal Matrix™: Allows the user to get a superior mold of the teeth for a more slim and lightweight feel.
Micro-Fit™: SnoreRx is adjustable in 1 millimeter increments to allow the user to precisely set the amount of jaw advancement and prevent over-extension. For most users, only a 1-3 millimter adjustment is needed to stop snoring.
Wearing SnoreRx can become second nature for you, but as with any other oral appliance, it may take a little time to get used to it for some people. We recommend that you allow yourself up to five nights of consistent use to see if your mouth gets used to the feel of SnoreRx.
What should I look for in an anti-snoring mouthpiece?
Many medical professionals agree that an anti-snoring oral appliance is effective if it is adjustable and, more importantly, if the user can easily adjust it on their own. An effective mouthpiece should let you advance your jaw as needed by at least 1 millimeter increments.
Customization is another key feature to look for. The more you can customize the fit of your appliance, the better it will work for you.
The proprietary design of SnoreRx allows you to adjust the advancement settings as needed without any screws, springs, or other hardware components that could damage your teeth or put a strain on your TMJ.
What makes SnoreRx different?
SnoreRx is a mandibular advancement device (MAD) that gently hold your lower jaw slightly forward. This helps maintain a clear airway while you sleep and prevents the irritating sound we call "snoring."
SnoreRx is a one-of-a-kind snoring mouthpiece because it offers many levels of customization including the ability to advance your jaw in one-millimeter increments without the need of hardware. Each model lets you select the advancement setting that feels and works the best for you.
SnoreRx's unique Thermal Matrix™ Design enables each user to personalize their device with a more accurate custom impression, which makes it more comfortable to wear. The custom impression process is a simple step by step process that can be done in the comfort of your home.
Is a snoring mouthpiece the best remedy?
Anti snoring mouthpieces are a popular solution to stop snoring and are clinically proven to work.
Snoring often results when your jaw relaxes while you sleep and causes the muscles in your throat to relax and narrow your airway. SnoreRx targets the main cause of snoring by moving the jaw slightly forward to maintain an open airway.
Other snoring aids such as nasal strips, nose plugs, and sleep sprays are simply not adequate solutions to stop snoring.
Does SnoreRx offer a guarantee?
Yes, we offer a 30-night guarantee on our products to new customers because we are confident that SnoreRx really works. If there's any reason that you are not satisfied with your purchase, we are happy to refund you the purchase price.
SnoreRx Reviews
Fred

Verified Buyer

Works GREAT. It worked the first night.
Craig McCully

Verified Buyer

SnoreX Plus eliminated the sleep issues I was experiencing. No more snoring whether I lay on my back, side or stomach!
Dbwolff

Verified Buyer

This product works perfectly for me to prevent snoring. I also did not suffer any jaw pain after using it as I have with similar products. My only problem with all of these products is an irritation of my tongue and palate after a few days of use. I then need to stop using the product until it all gets back to normal. Seems to be a reaction to the material it is made of, so it's probably just my personal experience. I don't have allergies, so I don't think that is the issue. It may be the increased salivation during the night that causes the problem, but I don't really know. In any case, when I need to prevent snoring, I still will use my SnoreRx.
Andy W

Verified Buyer

Have been using SnoreRx for about two months now. And I wanted to get some good experience before I wrote this review. I had used a guard on my top teeth to prevent me from grinding. The SnoreRx is substantially larger. And even after I received it in the mail, it took me two months to built up the courage to start using it. All the things mentioned in the other reviews are accurate. But for me, the most annoying side effect is the jaw soreness and stiffness. Most mornings, it is gone within an hour or two. But sometimes it lingers on longer. The third time I used SnoreRx, I almost quit entirely because my jaw hurt so bad. But over time, your ligaments will stretch and it will become less and less painful. I think if I wasn't a grinder, it probably wouldn't be so bad. But as far as sleeping better, it definitely DOES WORK!! Before SnoreRx, I would have a cloud of drowsiness over my entire day. With the SnoreRx, I am much more awake and alert all day. I rarely find myself dozing off at 2pm anymore. Also, I can sleep on my back again! Without SnoreRx, my tongue would always choke off my airway. Also, one other thing to mention. I did get tested for sleep apnea before purchasing SnoreRx. The threshold for getting a CPAP is surprisingly high (at least with my doctor)... like 15-20 episodes a night if I remember correctly. I was that bad, but I was bad enough that I wasn't sleeping very well. SnoreRx has been the perfect solution!
Kim

Verified Buyer

I have been using SnoreRx for 18 months and it has improved sleep patterns for both myself and my husband. It takes a week or so to become comfortable with the apparatus but is well worth the effort.
Milkman

Verified Buyer

Works perfect. Would be better if it held up longer.
Nana P

Verified Buyer

SnorerX has helped to significantly improve my sleep, reduce my snoring and keep me breathing well through the night with no more headaches. Sometimes my jaw relaxes too much and it pops out but I always find it and pop it back in. SnorerX has made a big difference
Ben

Verified Buyer

It's amazing. It works. Just a little jaw discomfort. But overall it's an excellent product
Vivian Martinussen

Verified Buyer

Very pleased with my snorex. Would highly recommend to a potential buyer.
AUserofSnoreRx

Verified Buyer

It works well and I don't snore while using it. I do wish it was slightly more compact; it's a bit bulky in your mouth and takes a few days to get used to. Maybe the Plus model has solved that already, dunno. Oh, and it's great for traveling! Wife endorsed.
cindy

Verified Buyer

I purchased snoreRX as an experiment for some small sleep apnea not snoring as using a machine is not an option and I didn't want to spend $5,000 to have my dentist make one til I was sure that it worked. I must say that it seems to work somewhat-- it is a bit uncomfortable in your mouth
scott m dachishen

Verified Buyer

after trying a series of anti snore solutions i decide to try another ( snorerx) after the first night my partner said she was able to sleep without waking up from my loud snoring. I have been wearing it for 1 month and it works !!
Jo. Ann R.

Verified Buyer

Works great as described. Very easy to personalize.
Cheryl

Verified Buyer

This has been a game changer! I was so fed up with my husbands snoring I was contemplating sleeping in another room. Now he is quiet all night and he says he's sleeping better than ever!
TnT

Verified Buyer

It works! Husband stopped snoring!! It has been a life saver and way cheaper option than a machine.
Miguel

Verified Buyer

I have tried several mouthpieces of other brands and none had worked until I tried Snorerx. In my case, I have moderate sleep apnea and this device seems to do the trick. At least the snoring is very soft now and occasionally. As a result I breath better at night.
NancyC

Verified Buyer

I bought the SnoreRX Plus, not really sure the difference between the 2 options. My husband had complained about my snoring and researched mouth pieces online and it seemed SnoreRX had really good reviews. My husband says it must be working because he doesn't hear me. I am so thrilled. It does take a little while to get used to wearing it but thankfully I can breath through my mouth. The only thing I do worry about is if it will affect my bite. I sense that my bottom teeth are not biting down in same place. I will need to take it into my dentist and ask. I am thankful that it's working though.
Danny

Verified Buyer

Best product in the market!!! Incredible fit.
Eric

Verified Buyer

I Would definitely recommend this product
WhatsInAName

Verified Buyer

Way too uncomfortable, to the point where I could not use it.
Carol

Verified Buyer

I own 3 Have one for home, 1 for travel and one in just as a spare. Stopped me from snoring the 1st night!
Nelson

Verified Buyer

It does work for snoring but half way through the night the adjustment (3 for me) is back to 1. It won't stay at the selected setting!!! Poor design and since when I got it I was on vacation I started using only 2-3 weeks after I placed the order, so before I noticed this flaw I could not ask for a return of the product :( oh well, I'll have to go get the one from the company that makes the adjustment with a small screw and tool, that is most likely the better design!
Tom

Verified Buyer

None , okay product when it works
GK

Verified Buyer

My husband has been using the snorex plus for over a year, and it has made a significant difference. He doesn't snore when he's wearing the device. I purchased one about a month ago since I also tend to snore. It took a few nights to get used to it. I had to redo the fitting after a few nights because it was hurting my teeth. It does prevent me from snoring. I always end up spitting it out at some point during the night. But, if I start snoring during the night, I just put the device back in and the snoring ceases.
Colin

Verified Buyer

Great Great Great Great Great grea
Russ

Verified Buyer

Unfortunately, for me, it didn't help reduce my snoring. I adjusted it so that it wasn't comfortable to wear (tried to open the airway as much as I could tolerate) and it still didn't improve my snoring. It seems to be a quality made product, easy to adjust, but doesn't work for my snoring problem.
Bruce

Verified Buyer

I believe the SnoreRX is an excellent product but I did not factor my gag reflex prior to purchase.
Bruce

Verified Buyer

Works like a charm! It takes a few days for your mouth to get used to it, but it has completely stopped my snoring.
Michael C Miller

Verified Buyer

Snoring has basically stopped. Easy to set up and fit to your specific teeth !
Brent Snyder

Verified Buyer

DIdn't work for me, also quite thick
Read more reviews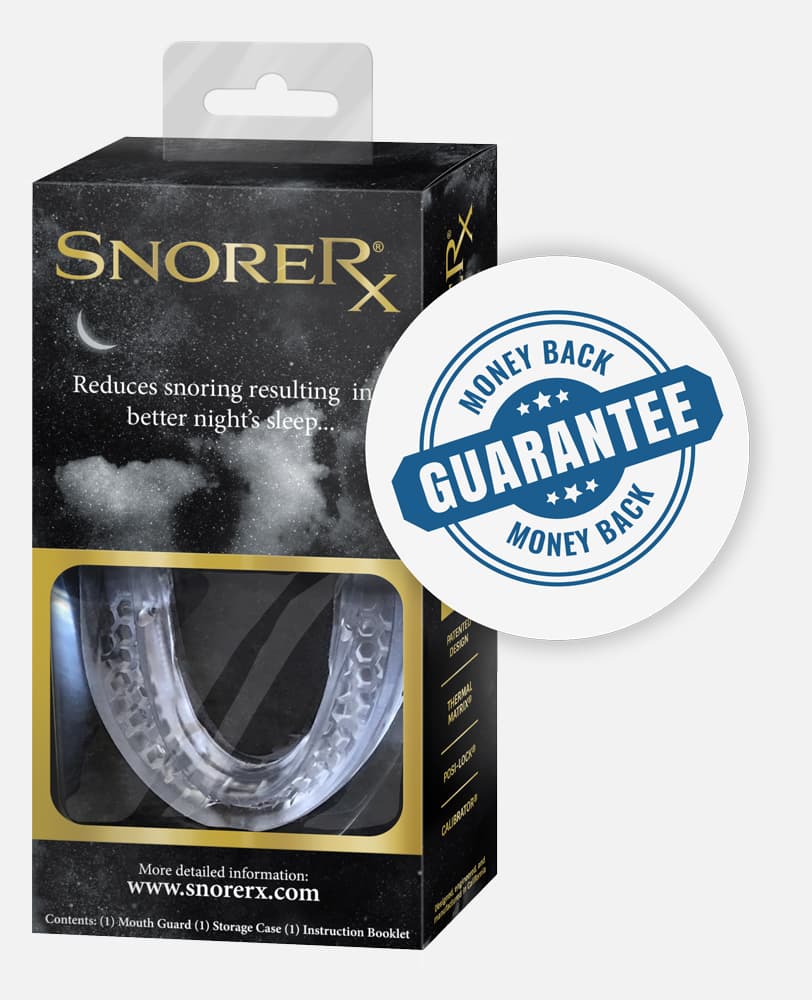 Try SnoreRx Risk Free
Try SnoreRx risk-free for 30 days or your money back. If you are not satisfied for any reason, send it back for a refund. No questions asked.
Back to top